Vita Pharma Consulting is a company specialized in technical and regulatory affairs, providing support to its clients in order to offer the necessary solutions to achieve the maximum quality of services provided. Based in Brazil and Portugal, our team is formed by experienced professionals in Latin America, especially in Brazil (ANVISA), as well as in the European Union (Infarmed, EMA and EDQM).
Founded in December 2016, Vita Pharma Consulting is a Regulatory Technical Intelligence organization focused on the regularization of Medicines for the industrial pharmaceutical sector, which aims to translate the regulatory complexity of medicines, adapting it to the reality of clients through consulting, advice and training.
Vita has two headquarters, one based in Rio Grande do Sul, Brazil, and the other based in Lisbon, Portugal, and our consultants are in different regions of these both countries. All this to provide the best assistance and convenience to our customers.
Our mission: 
Providing excellence in technical and regulatory consulting solutions to the pharmaceutical industry through highly qualified consultants with globalised knowledge, committed to improving the efficiency and quality of our client's projects.
"We at VITA are very proud to be able to contribute to the quality of medicines. Working in partnership with the technical and regulatory team of our clients, providing the necessary support focused on the benefit/risk evaluation, we believe that we can bring more LIFE and STRENGTH to the projects."
Lorena Pereira and Milena Barrozo – Founders of Vita
Vita has the support of professionals with more than 15 years of practical experience in large national and international pharmaceutical companies with continuous development, like, specializations, MBA (Master of Business Administration) and Master Degrees in areas of Industrial and Regulatory Affairs for Pharmaceutical Industries.
The consultants of Vita have national and international experience, with recognized experience in dealing with regulatory authorities in Brazil, Latin American countries and the European Union. We have consultants based in several locations in Brazil and Europe, with the aim of giving greater agility and progress to your project.
Vita also has a team of experts in the analytical, quality assurance, project management and new business areas, supporting the company in all the necessary steps for the smooth running of its projects.
Lorena Pereira
Founder of Vita
Founder, based in Portugal. She is an Industrial Pharmacist with a degree from Uberaba University;  specialization in Health Surveillance from Pontifical Catholic University (PUC-GO); MBA in Industrial Management from Getúlio Vargas Foundation (FGV); certified in Regulatory Affairs focused on FDA and EMA by the Regulatory Affairs Professional Society (RAPS). Master's degree in Regulation and Evaluation of Medicines and Health Products at the University of Lisbon, Portugal. She has built a career in Brazilian Pharmaceutical Industries as Cristália, Pharmascience, and Cifarma, since 2007. Extensive experience in registration and post-marketing variations of pharmaceutical products.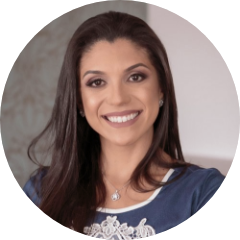 Milena Barrozo
Co-founder of Vita
Co-founder, based in Brazil. She is an Industrial Pharmacist with a degree from Federal University of Ceará – UFC; MBA degree in Business Management from Getúlio Vargas Foundation – FGV; postgraduate in Regulatory Affairs by ICTQ; Personal and Professional Coach certified by the Brazilian Coaching Society. With more than 10 years of national and international experience in technical areas such as quality assurance, quality control, and regulatory affairs of pharmaceutical products, she has critical and strategic analysis in technical documentation for marketing authorization. She has a Master's degree in Regulation and Evaluation of Medicines and Health Products at the University of Lisbon, in Portugal.